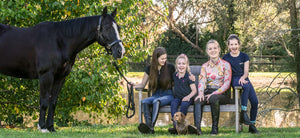 Your friendly equestrian & saddlery experts
Saddleworld Dural can offer you a world of difference through our friendly and personalised customer service, knowledge and experience all things equestrian and saddlery.
Located in the Hills to the north-west of Sydney, Saddleworld Dural both manufactures and distributes the finest saddlery, equestrian and racing products throughout Australia and the world.
Good As Gold Thoroughbred Stud & Racing
Manufactured exclusively by Saddleworld Dural, our "Good As Gold" products are a collection of Australian made leather bridles, halters, leads, serving boots, exercise and race saddles, and all customised stud and racing products.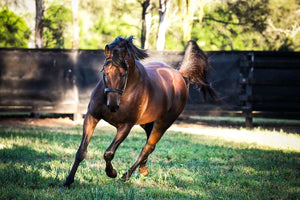 What our valued customers say about shopping at Saddleworld Dural
★★★★★

I cannot more highly recommend Saddleworld Dural. Their service was second to none in not only communication but availability and commitment to get and fit me a new Fairfax saddle.

Jacqueline W
★★★★★

One of the best horse shops to deal with! They offer very professional, helpful & friendly service. Their prices are reasonable too & if they have the item in stock, they always post straight away.

Sharee S
★★★★★

Best equestrian shop in the area. So much to choose from and great customer service.

Michelle D
★★★★★

Despite never writing a review normally-had to write one! The team at Dural are incredibly friendly and so helpful, even going so far as to send images and measure things to ensure sizing is right. Cannot recommend the team highly enough even living interstate they make it easy and effortless with amazing Service, big thanks to Tahlia for going above and beyond.

Johanna G
★★★★★

After shopping around for a specific Akubra and having no luck anywhere, I was able to source 2 of them from Saddleworld and they were awesome to deal with from the start. Very responsive to my questions and posted within hours of payment. Cheers!

Ryan
★★★★★

Amazing customer service - staff were super kind & knowledgeable & helped us to choose rugs over the phone & even brought them out to our float so we wouldn't have to keep the horses waiting!! Thank you.

Lara D
★★★★★

Great place. Walked in needing a helmet and boots and they have a great selection of those. I've got a 61 inch head and they recommended a helmet with a dial which was a great solution. Their staff provided a lot of personalised service which was super helpful. Will definitely go back and shop there again.

RC
★★★★★

Love the kids drawing table, my kids do so many great works of art there and I can browse without stress! Friendly, knowledgeable service and good range!

Kim G
★★★★★

Excellent customer service
Very helpful nothing was to much trouble

Lindsay Grebert
News, Resources & Guides on all Things Equestrian & Horses...
View all
Just to let you know… We keep all our products available to purchase online. Most often, if you choose an item that's not in stock we can quickly get a hold of what you need and still have it to you within days.